Chiropractic Care at Love Chiropractic
The brain controls all function in the body. The Central Nervous System consists of the brain and the spinal cord. Chiropractic investigates abnormal movement and restriction within the spine. This restriction may indicates spinal joint dysfunction.
Think of spinal joint dysfunction as a disruption to the normal function of your spine; it's usually called "interference." This underlying interference may lead to dysfunction, and eventually, symptoms.
Removal, Restoration and Return
The job of a Chiropractor is to remove this joint dysfunction through a gentle Chiropractic adjustment. This action helps to restore the communication between the brain and the body. The body may now be better able to heal and maintain itself in balance.
Potential Benefits of Chiropractic Care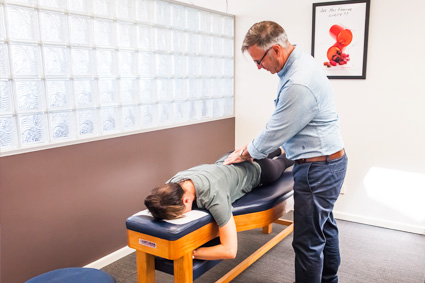 Better sleep
Decreased pain with increased range of motion
Easier and more productive workouts
Enhanced athletic performance
At Love Chiropractic we have assisted many people with neck and back pain, headaches, migraines, sciatica, extremity pain and arthritic pain. Why not get in touch with us to discuss if chiropractic care may benefit you?
Our Treatment Is Low-force and Gentle
We use a combination of Manual and Instrument techniques. Our Instrument techniques include the Arthrostim Instrument, which is a mechanical adjusting device. It requires no twisting, popping or cracking of the spine.
Our other low-force techniques include Diversified, NET and Sacro Occipital Technique (SOT). We also offer Therapeutic Contour Pillows and fitting.
Get Started Today
We invite you to come and experience chiropractic for yourself. At the completion of initial care, you may then benefit from intermittent treatment to help you stay on track. Contact Love Chiropractic today for an appointment. Contact Love Chiropractic today for an appointment!

Chiropractic Care Kuluin, Maroochydore, Buderim QLD | (07) 5445 1066